SPRØSTEKT KYLLINGBRYST MED SKOGSOPP, SOYA OG PARMESAN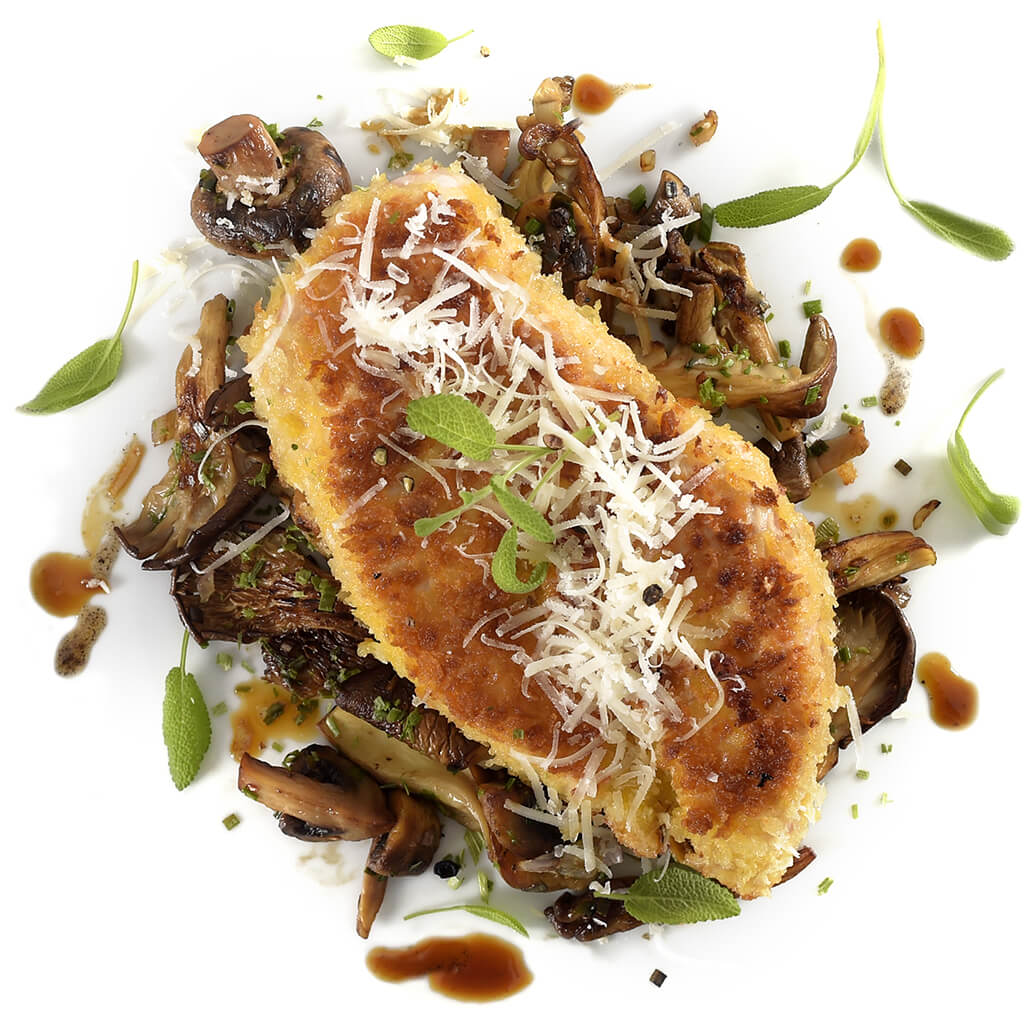 Du trenger:
1 kyllingbryst fra Holte Gård 

(ca. 350-380 g)

1 egg fra Holte Gård

2 dl hvetemel

2 dl pankomel eller griljermel

300 g renset sopp

2 sjalottløk

1 potte gressløk

1 stilk salvie

2 fedd hvitløk

50-100 g smør

2 ss soyasaus

30 g parmesan

Rapsolje eller solsikkeolje 

til steking
Slik gjør du:
Sett ovnen på varmluft 160 grader. Ta bort «indrefileten» fra brystet (bruk gjerne håndkraft og dra den av). Del brystet på langs (slik at du får to skiver). Behold skinnet på den ene. Vend det skårne kyllingbrystet og indrefileten i hvetemel, deretter i egg som er vispet sammen med litt salt og til slutt over i pankomelet. Hakk sjalottløk og skjær gressløk fint. Stek kyllingen i olje i stekepanne på middels varme i  3-4 min. Vend når kyllingen er gyllen. Sett så pannen inn i ovnen på 160 grader i ca. 20 min. (kjernetemperatur 68 grader). Mens kyllingen er i ovnen, steker du soppen i olje til den er gyllen, avslutt med 20 g smør, salt, pepper, skåret gressløk og hakket sjalottløk. Ha 30 g smør, hvitløk og salvie i stekepannen, og sett på svak varme. La smøret smelte og hell i soyasausen. Anrett med sopp først, deretter kyllingbryst, og til slutt rikelig med revet parmesan. Hell over en skje eller to med soyasmør fra stekepannen. Kyllingbrystet serveres med sesongens grønnsaker, f. eks. potetpurè, eller kanskje ovnsbakte rotgrønnsaker.
Oppskriften er utviklet av
Stefan Walltin fra restaurant Brasserie Hansken